Welcome to Jane's Boats
If you enjoy gently chugging along calm waters in comfort, a trip with Jane's Boats is probably for you.
We have two large pirogues (a local narrow boat, designed to navigate the creeks of the Gambia river delta) and make regular day trips up the 'bilong' starting and finishing at Denton Bridge, near Banjul.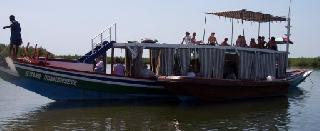 Here at Janes's boats we pride ourselves in our relaxing service. Our team are proffessional and freindly and our boat trips are designed to make you happy.

On our Lazy Day cruise you will spend a day relaxing on board in a lovely warm environment. With great food and some drinks included in the price it is great value too.

You can try your hand at fishing on all our trips, but if you want a more active rod and reel experience, why not try our fishing trip.

Our boats are also availale for charter. So if its a romantic cruise for two, a business team-building day or a party for fasmily or freinds, you just might have found the perfect way to have a great time.

Our boats are properly maintained and are equiped with all the necessary safety equipment, insueance and licenses. The creek is calm and cool and our team will keep you safe if you take a dip. The boats have a lower deck, where you will find the galley, the bar and the toilet, and an upper deck where you can stretch out in the sun.

If you've tried Jane's boats before you will want to come back. We look forward to welcoming you.